These cute little goodie bags are a perfect party favor for Memorial Day and/or 4th of July. We have lots of upcoming parties to celebrate the Red, White and Blue so when we came across these Flag Party Favors from Martha Stewart's summer living series we knew these would be a big hit at all the parties.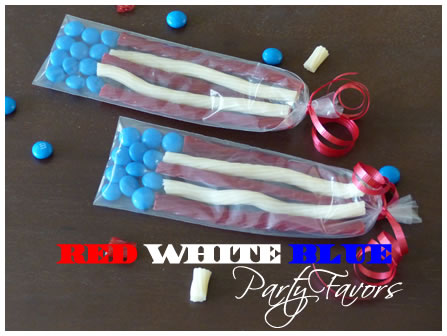 The supplies you will need:
Red Licorice
White Pina Colada Licorice Twists

Blue M & M's
Bag
Ribbon
Start by placing M & M's in the bottom of the bag. Next you will want to start putting in the red and white licorice by alternating between the two colors. Then tie up the bag with ribbon. You are done and ready to pass out these cute red, white and blue patriotic party favors.

If you are looking for a kids summer camp check out our directory.


KidPep is a participant in the Amazon Services LLC Associates Program, an affiliate advertising program designed to provide a means for sites to earn advertising fees by advertising and linking to amazon.com.