With Mother's Day around the corner we wanted to find a cute cookie for dessert. When we came across the idea for slipper cookies we were sold.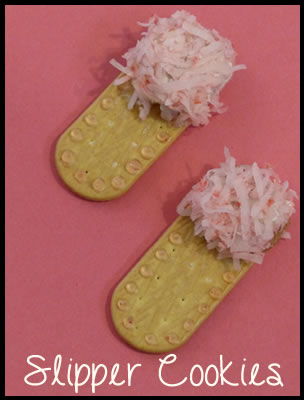 These cute cookies require a few supplies:
Vienna Finger Cookies
Doughnut Holes
Frosting
Shredded Coconut
Food Coloring
Icing
You will want to start by taking a Vienna Finger cookie apart and wiping off the filing. Then you will cut a doughnut hole in thirds so you end up with two rounded ends. Add some food coloring to get your coconut to your desired color.
Spread frosting on the two rounded ends of the doughnut holes and then roll in shredded coconut. Apply some frosting to the tip of the Vienna Finger then place the doughnut hole on to the frosting to hold it in place. Next decorate the sides of the cookie with icing. For more information watch our video.
These slipper cookies are not only great for Mother's Day they would also be great for a spa party or a sleepover party. Whatever you decided to make these for they will sure be a hit!
Check For Local Kids Activities!

Cookies inspired by Examiner.