What kid or adult for that matter doesn't love bubbles? We went on a hunt for some great kid friendly homemade bubble recipes. We found that with a few items you may already have in your kitchen you can make some great bubbles. With spring just around the corner it's a great time to gather your supplies for some outdoor fun with bubbles.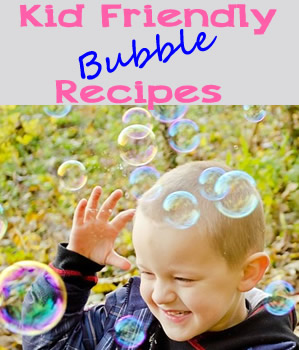 Here are some of the best kid bubble recipes we came across on the web.
1. DIY Bubbles – For these bubbles you only need 3 ingredients. From My Frugal Adventures.
2. Super-Duper Homemade Bubbles & Wands – All natrual non-toxic bubble recipe and an added bonus how to make cute bubble wands. From The Honest Company Blog
3. Easy Homemade Bubble Mix – Follow a few simple instructions you can make some big bubbles with this recipe from The Kid Friendly Home.
4. Non-Toxic Homemade Bubbles – These homemade non toxic bubbles are great for kids and easy to make. From Simple Homemade
5. Eco-Friendly Bubbles – If you are looking for an eco-friendly bubble solution then you will want to check out this kid friendly bubble recipe from Green and Clean Mom.
For kids activities check out the local kids guide.